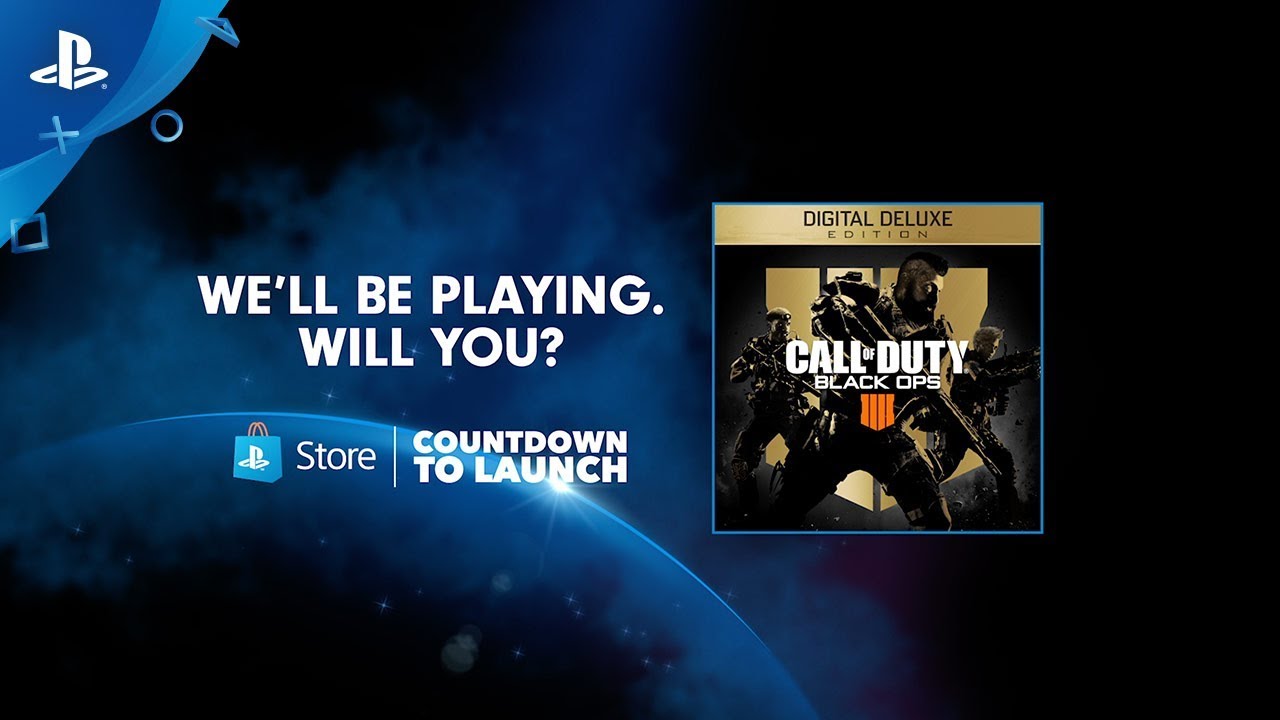 A PlayStation Store comemora o futuro lançamento com recompensas gratuitas, como papéis de parede, avatares e um tema dinâmico de PS4.
A contagem regressiva começou! Faltam apenas sete dias até o lançamento de Call of Duty: Black Ops 4. Com combate multiplayer* realista e fluido, o maior conteúdo Zombies até agora, e uma experiência estilo battle royale no maior mapa da história de Call of Duty. E não se esqueça – ao pegar sua cópia do jogo para o sistema PS4, terá acesso antecipado de sete dias** a todo o conteúdo, incluindo conteúdo gratuito da comunidade, como novos Specialists, e atualizações Blackout no universo Black Ops 4.
Para começar o evento de Contagem Regressiva da PlayStation Store de Call of Duty: Black Ops 4, temos várias recompensas, vamos conhecê-las.
Live Stream de Lançamento
Assista o livestream Call of Duty: Black Ops 4 Countdown to Launch dia 11 de outubro. Vamos conversar com convidados especiais da Treyarch como Dan Bunting, David Vonderhaar, Jason Blundell, e Craig Houston. Também vamos mergulhar no modo Zombies com Jason e Craig, e checar o multiplayer e o modo Blackout com Dan e David.
O que: Livestream PlayStation Store Call of Duty: Black Ops 4 Launch
Onde: PlayStation.com/bo4
Quando: 11 de outubro de 2018 @ 10AM PT
Porque: Novo gameplay!
Recompensas Digitais – Papéis de Parede, Avatares e Tema
Adquira suas recompensas digitais Call of Duty: Black Ops 4 durante nossa contagem regressiva, começando hoje! Basta logar com sua conta da PlayStation Network entre do dia 5 de outubro, 8AM PT até o dia 31 de dezembro, 11:59PM PT e receber as seguintes recompensas, disponíveis para usuários com uma conta PSN dos EUA, Canadá, América latina e Brasil.
Papéis de parede com arte Blackout e Zombies
Avatares com os Specialists: Ruin, Battery, Torque, Ajax, Crash
Tema dinâmico Call of Duty: Black Ops 4
Para mais informação sobre o evento de lançamento de Call of Duty: Black Ops 4 da PlayStation Store, visite a página da Contagem Regressiva de Call of Duty: Black Ops 4.
*Requer uma conexão com a internet. Requer uma assinatura PlayStation Plus ativa para jogar online com amigos (vendida separadamente).
**O novo conteúdo jogável, quando disponível, será lançado 7 dias antes para PS4 do que para outras plataformas. O conteúdo pode ser vendido separadamente.