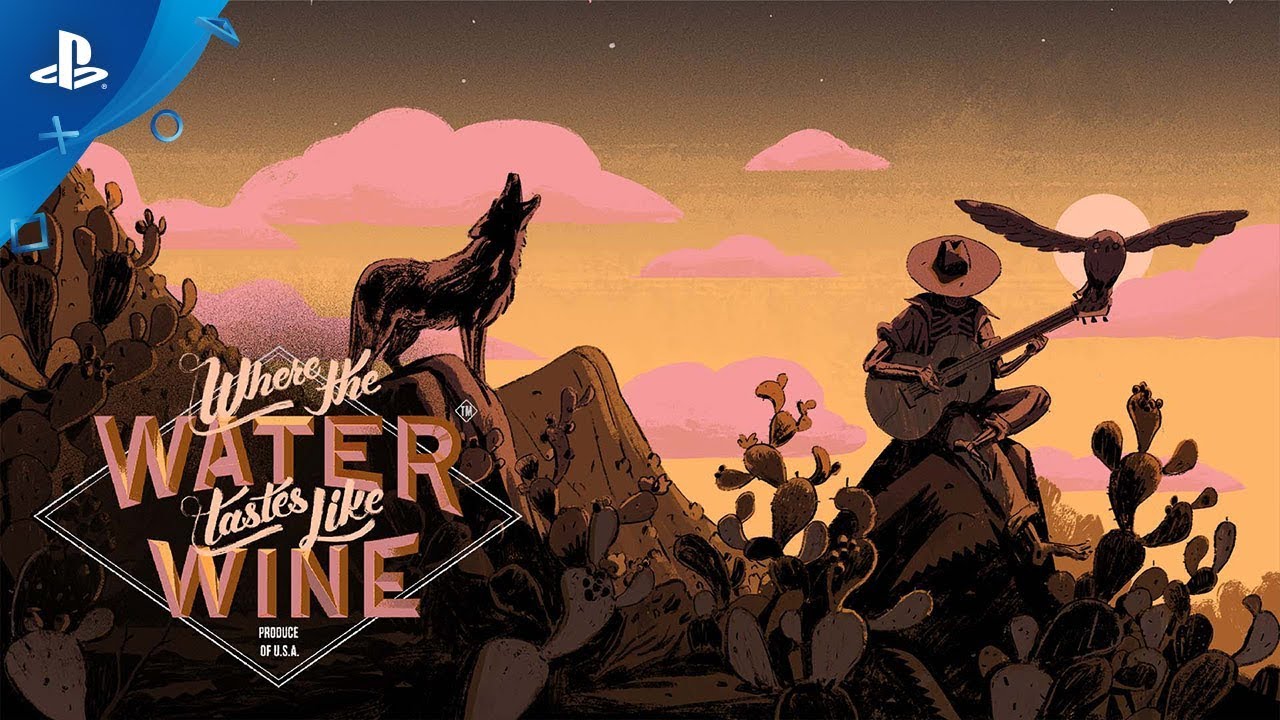 Conheça alguns dos personagens intrigantes de uma fantástica América na era da Depressão
Estamos felizes em anunciar que o premiado game de aventura narrativa Where the Water Tastes Like Wine, chega para PlayStation dia 2 de dezembro!
Where the Water Tastes Like Wine é um jogo sobre os Estados unidos da era da Grande Depressão, colecionando histórias, de fantasmas crianças até a lenda de Pecos Bill. Após conseguir essas histórias, você as compartilha na fogueira de seu acampamento com os personagens que encontrará. O jogo possui 16 personagens diferentes, e cada um foi escrito por um autor diferente.
Aqui estão alguns:
Temos Jimmy, o padre viajante. Escrito por Austin Walker, Jimmy conta ao jogador sobre sua família, sua fé, e sobre as comunidades com as quais interage pelo caminho. Ele também fala sobre sua participação da Primeira Guerra Mundial, e como ele é um fã de luta livre, ele fala sobre o circuito de lutas e sobre as lutas de seu pai.
Temos Althea, a cantora de blues. Ela vende sua alma ao diabo para ser a melhor, mas o acordo não acaba muito bem. Mas seria pior que a alternativa? A talentosa Gita Jackson escreve esta incrível jornada. A dubladora Kimberly Brooks (Mass Effect 3) dá vida à Althea enquanto ela conta sua história.
Bertha, a refugiada. Sua dubladora é Cissy Jones (Firewatch), e é escrita por Emily Short. A fazenda de Bertha em Oklahoma falha quando a seca atinge, estragando a terra e tornando a vida lá quase impossível no novo deserto. Ela vai até a Califórnia em busca de uma vida melhor para ela e sua família, mas acaba sempre não recebendo pagamentos, encontrando um lugar para viver e dá azar em quase tudo.
Também temos Quinn, a criança sem teto. Como muitas outras crianças durante a Grande Depressão, ele foi expulso de casa, e agora perambula pelos trilhos com seus cães fiéis – e faca afiada. Com a voz da incrível Melissa Hutchison (The Walking Dead) e autoria de Claris Cyarron, conta ao jogador histórias de suas viagens e vida como sem teto, durante a maior depressão econômica dos Estados Unidos.
Há muito mais do que essas quatro histórias, e temos mais 12 personagens para conhecer! Além disso, temos o personagem misterioso que lhe entrega sua missão — o lobo. COm a voz de Sting, o homem com cabeça de lobo vence um jogo de pôquer e o amaldiçoa a perambular pela terra, espalhando histórias para os sete cantos. Você o encontrará outras vezes — sempre que sucumbis à fome ou exaustão, ou se uma de suas aventuras o levar até a morte. E uma última vez caso complete sua missão…
Espero que encontre o que procura!